IMPORTANT: Walmart is making "delegated access" available to all sellers, meaning that they can go to the Walmart Developer portal and retrieve different keys for every integration.
***If you are connected to Walmart using other third party integrations such as Geekseller or Sellbrite, you must generate keys separately for that integration.***
Step 1: Go to Developer.Walmart.com. Do not type in www before this address, or else it will not work.
From the dropdown below your username, select "API Keys".
Step 2: Scroll all the way down to Production Keys for Solution Providers (Delegated Access). Do not go to Sandbox.
Add Deliverr as a Solution Provider from the dropdown and set all permissions as "Full Access".
Step 3: SET ALL PERMISSIONS TO FULL ACCESS. If the options are limited to "No Access" or "View Only", select "View Only".
Some accounts are in "read only" access and some accounts have "admin" accounts. People with "read only" accounts will see two options.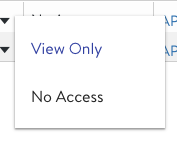 Select Full Access if all these options are visible.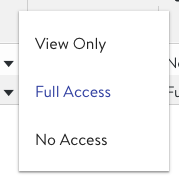 Your columns must look like this:
After you're done, you must click "SAVE", the orange floppy disk icon next to the blue text "API Key" in order to set all of these permissions properly.
Step 4: In Walmart, click the blue text that reads "API keys".
There should be a pop up that shows the keys. Copy these values over and put them into Deliverr.
Step 5: If you are switching from old to new API keys, generate your keys into Deliverr at this link: https://sellerportal.deliverr.com/fast-tags/walmart/update.
If you are generating these keys for the first time, go ahead and start the fast tag process.